It was a good day in the sports world for me.
The Mighty Ducks won against the Dallas Stars 4-2 finally after losing the first two.
The Blue Team did a damn hell of good ass hittin!! (I wonder if Bowas arm is sore from waving in all those runners)
Props goes to ummm.. Andruw Jones for having his first multi-hit game. I mean shoot it took a hell of a long ass time. I was starting to believe he was a wate of money.
But we cannot forget that yesterday, as many of you know by now and may be tired of hearing it, Jackie Robinson broke baseball's color barrier. So Amen to ma brotha Jackie Robinson!!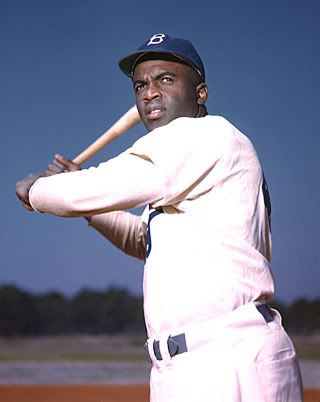 And last but certainly not least, Lakers clinched the No.1 seed in the West.
A beautiful thing to know that we're going to the playoffs for the first time in 4 years. So time to dust off those laker flags and get ready to put them on your windows!!!